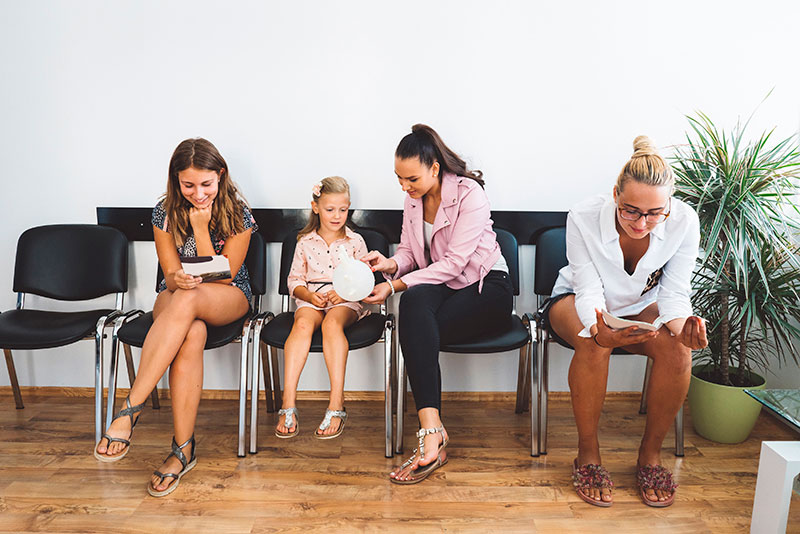 Welcome to Forest Heights Dental
Your Dedicated Dental Team
Our dentists, dental assistants, and hygienists are highly dedicated to continually improving their skills and providing you with excellent dental care. They are here to keep your smile clean and healthy and are happy to answer any dental health questions you may have.
Our office staff are the first people you will meet when you come to our dental practice, and they take pride in ensuring that you feel comfortable as soon as you arrive. They are knowledgeable and friendly and can answer any dental finance questions you may have. If you would like to schedule an appointment contact our dental office today.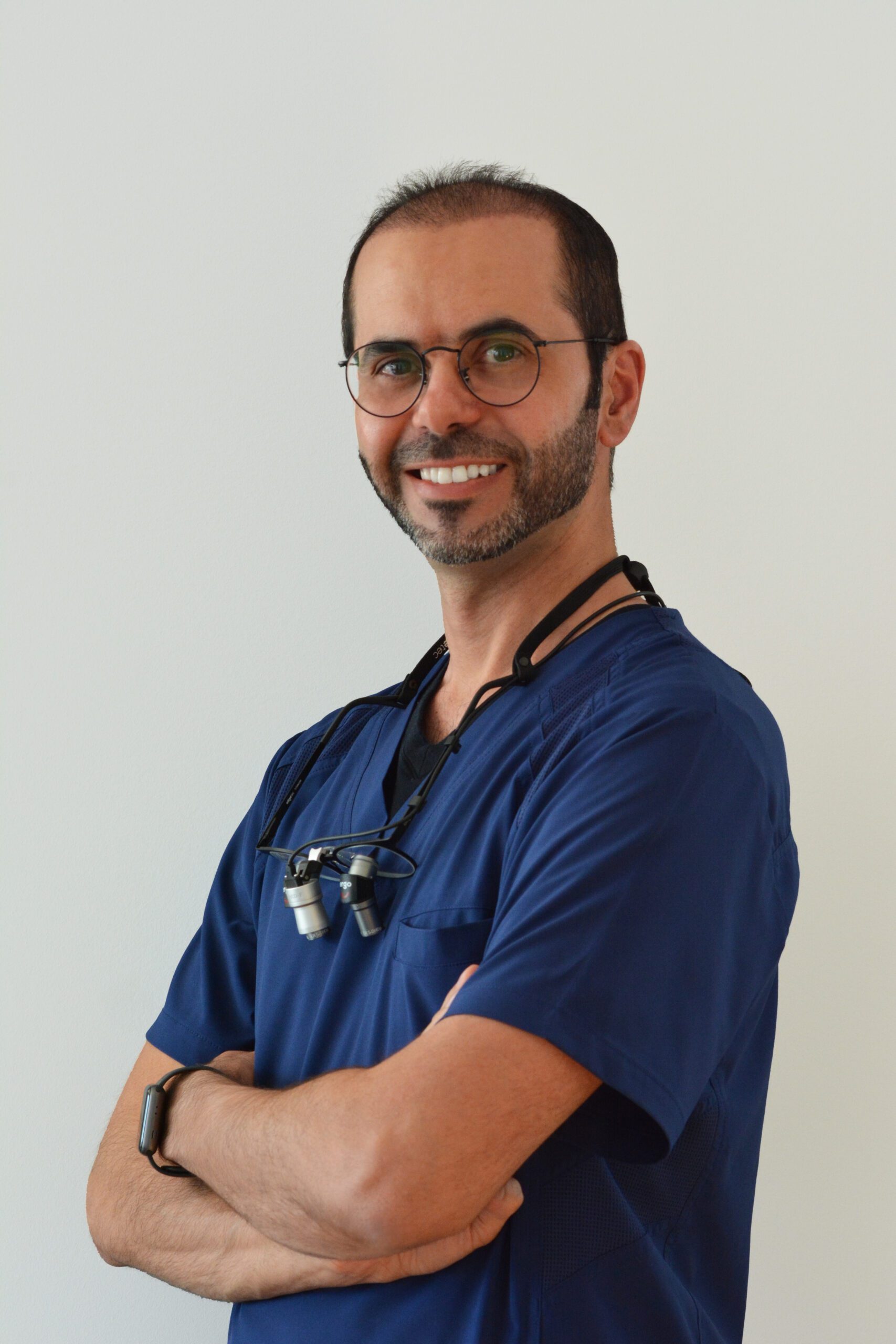 Dr. Charif Haddad – Dentist
Dr. Charif Haddad is a skilled and compassionate dentist with a passion for helping people achieve confident smiles. Born and raised in Syria, he embarked on a remarkable journey in dentistry that has taken him across countries and enriched his experience over the course of more than 15 years. With a specialization in orthodontics, Dr. Haddad is dedicated to improving dental health and capturing moments that bring joy to his life.
Showing an early interest in healthcare, he decided to pursue a career in dentistry. He attended Al Baath University in Hama City, where he diligently studied dentistry and laid the foundation for his future career. After graduating in 2003, he quickly established himself in his hometown, running a successful private clinic and gaining valuable experience.
Driven by the desire to hone his skills further, he set his sights on France to pursue a specialization in orthodontics. The opportunity to study and practice in a country renowned for its medical expertise was a defining chapter in his life. He spent time working in reputable hospitals, acquiring invaluable insights and expertise in orthodontic treatments.After completing his studies in France, Dr. Haddad ventured to Saudi Arabia, where he continued to build his professional journey. In Saudi Arabia, he not only enriched his experience but also had the opportunity to work with diverse communities, understanding unique dental challenges faced by individuals from different backgrounds.
Beyond the realms of dentistry, he finds joy in his personal life. A devoted husband and a proud father of two daughters, spending quality time with his family is a top priority. They often engage in activities like biking and swimming, creating cherished memories together.
One of his most cherished hobbies is photography. Capturing the world's beauty through his lens allows him to see life from different perspectives and appreciate the simple joys surrounding him.
Dr. Tariq El-Kiswani – Dentist
Dr. Tariq El-Kiswani's mission is to provide dental health services to all patients by improving the quality of their life for the better.
Dr. Tariq El-Kiswani's mission is to provide dental health services to all patients by improving the quality of their life for the better
Listening to your concerns will help me understand your needs,
Examining your oral health will establish the tips to solve your issues,
Discussing the treatment opportunities with you will open up the different solving options to you,
Answering All your questions will improve your dental health awareness
Choosing the option that works for you, is my commitment to solve your needs
All in All, You and I will work together to achieve your bright smile that will change your life for the better
Dr. Tariq El-Kiswani is a certified board member of the National Dental Examination Board of Canada, a certified resident in Implantology from The Institute for Dental Excellence Academy of Integrated Implant Dentistry, member of Alberta dental association and Canadian Dental Association, bringing two decades of clinical experience
Dr. Tariq believes that continuous education and professional development is vital to stay aware and be knowledgeable about new dental services
Dr. Tariq is honoured to serve his patients with the best level of dental care in all kinds of general dentistry, with a strong passion towards Endodontics, Oral Surgery and Implantology
Yara – Practice Manager
My name is Yara, and I joined this community in November 2022. I graduated from Business Health in Calgary in 2018 and am originally from Hama in Syria. I have a wonderful son who brings me immense joy. Although I love dogs, I don't currently have any pets. Apart from dentistry, I have a passion for art, playing the piano, dancing, and improving my skills in tennis and squash.
It's funny that I ended up in dentistry despite my background in health science. In the past, I have volunteered as an interpreter and translator. I find great pleasure in working out and connecting with others. One of my favourite quotes is, "Reality is a reflection of your inner thoughts, so start from within.
Kemisola – Dental Administrator
My name is Kemisola, and I work as a Dental Administrator. After earning my DOA certification, I joined the Forest Heights Family Dental team in June of 2023. I am happily married with two energetic boys to keep me busy. I love to cook and experiment with new recipes when I'm not at work. Here's a fun fact: try humming with your nose held – it's harder than you think! Hands up if you just tried it.
The most rewarding part of my job is helping patients on their oral health journey. In my free time, I like to relax and listen to music, and my favourite quote is, "You can't give what you don't have."
Haifa – Dental Administrator
My name is Haifa, and I work as an administrative professional. I've been a part of the Forest Heights Family Dental team since 2017. I completed my dentistry degree in Tunisia in 2003 and became an RDA in Alberta in 2017. I was born and raised in Tunisia, and I'm happily married with three children (no pets yet, though!). Fun fact: I'm still working on mastering the art of bike riding! I've also volunteered for school field trips with kids and love to travel and explore history.
In my profession, I take joy in helping people and positively impacting their lives. My favourite quote is, "Happiness is a choice, not a result. Nothing will make you happy until you choose to be happy."
Luma – Dental Administrator
Hi, my name is Luma. I began my career as a dental assistant by completing a practicum and then moved into dental administration within a year. I received my Dental Assistant Certification from CDI College in Calgary, AB, in 2020.
I was born and raised in this city and love discovering new cafes around town. I'm a social butterfly and enjoy hanging out with family and friends. I strongly believe in the adage, "What goes around comes around." This statement serves as a constant reminder for me to be kind and optimistic and treat everyone with respect.
Mohamad – Dental Assistant
I'm Mohamad, a seasoned Registered Dental Assistant originally from the Kingdom of Saudi Arabia. My dental journey kicked off in Egypt, where I earned my degree in 2010. Since July 2019, I've been proudly contributing my skills to the fantastic team at Forest Heights Family Dental.
In addition to my professional life, I'm a devoted husband and a father to two energetic boys. When I'm not in the dental world, you'll likely find me playing soccer, diving into books, practicing martial arts, enjoying a good movie, or playing video games.
One of the things I love about dentistry is those rewarding moments when I can help patients find relief from their pain. A quote that resonates with me is, "This too shall pass, and seasons will come and go." It's a reminder to embrace every moment.
Sana – Dental Assistant
Hi, I'm Sana, a dedicated Registered Dental Assistant (RDA) passionate about patient care. I graduated in 2019 from a top Calgary institution and joined Forest Heights Dental in 2020, finding deep fulfilment in improving patients' oral health. From Jeddah, Saudi Arabia, I journeyed to Pakistan for my Dental Surgery degree.
Beyond work, I'm a proud wife and mom of two boys, cherishing family time through travel, TV shows, and cooking. My favourite quote is, "There are two ways to live a pleasant life – either in someone's heart or in someone's prayers."
One of the most rewarding aspects of dentistry is being able to assist patients with their dental needs and seeing the joy on their faces when they smile.
Rita – Dental Assistant
Hi, my name is Rita. I'm a highly motivated and detail-oriented professional dental assistant with six years of experience and a scaling module. My top priority is ensuring that you have a healthy and beautiful smile. I was born in Syria and immigrated to Canada in 2017.
Before that, I worked as a civil engineer. I'm married and have a lovely baby boy who keeps me busy. In my free time, I enjoy swimming and decorating. I'm excellent at organizing and decorating my surroundings. I'm passionate about helping people and ensuring they receive exceptional service.
Semhar – Dental Assistant
Hi there! I worked as a dental and sterilization assistant and graduated from Orrota School of Medicine and Dental Medicine in Eritrea in 2015. I was born in Eritrea and happily married with one child. I enjoy cooking, listening to music, watching movies, and reading in my free time.
It's important to remember that dental pain not only has physical effects but also psychological ones. One of the things I love most about working in a dental office is being able to help people from all different communities.
Parhbeleen – Dental Hygienist
Parhbeleen is a Registered Dental Hygienist at Forest Heights Dental, where she began her journey in June of 2022. Although new to this particular office, Parhbeleen has been contributing to the dental field since 2017. She holds a degree from the Toronto College of Dental Hygiene, which she completed in March 2022.
Born and raised in Abbotsford, British Columbia, Parhbeleen lives with her family, including their adorable Frenchie/Boston terrier mix, Louie. She is single and has a variety of interests. An outdoor enthusiast, Parhbeleen loves hiking and is a regular gym-goer. She enjoys quality time with her family and friends when not staying active. Music holds a special place in her life, and she's almost always tuned in to her favourite songs.
An unusual aspect of Parhbeleen's life is her developed allergy to kiwis. For Parhbeleen, the most fulfilling aspect of her dental career is meeting new people and establishing personalized relationships with each patient. With a genuine passion for giving back, Parhbeleen volunteers with organizations like the Alex Bus and The Mustard Seed, among others.
She finds immense joy in making a meaningful impact on her community. Her favourite quote is by Steve Jobs, "The only way to do great work is to love what you do." With her blend of professional dedication and personal warmth, Parhbeleen is a valued member of the Forest Heights Dental team and her community.